Thanks to you, we made it happen!
Through the generous support from our alumni and friends, Northeastern was able to make giant leaps to advance the University. We were able to surpass our initial goal of $10 million and our stretch goal of $12 million. We were able to accomplish several firsts and increase the number of scholarships by establishing several new ones.
---
Donor Type Breakdown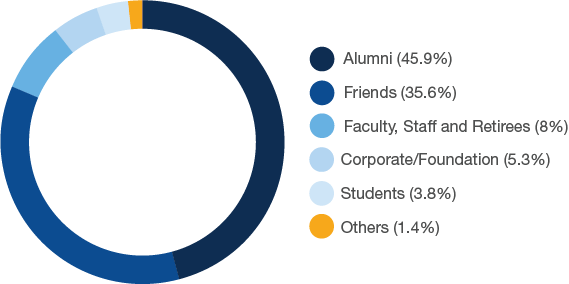 Firsts of Their Kind for Northeastern
First Student Veterans Scholarships
The Mueller Family, USMC, Veterans Memorial Scholarship
First Endowment for a Faculty Position
Bernard J. Brommel Endowment in Communication, Media and Theatre
First Biology Scholarship
The A. Michael Drachler, M.D. Biology Scholarship
First Faculty Research Scholarship
The Janet Lerner Faculty Research Scholarship
---
By the Numbers
Total Number of Donors
5,944
Number of New Donors
3,575
Number of New Scholarships
76
Committed Dollars Received
82%
Total Number of Donors
5,944
Number of New Donors
3,575
Number of New Scholarships
76
Committed Dollars Received
82%
About the Campaign
Join us as we celebrate the success of Northeastern's first-ever fundraising campaign, Transforming Lives: The Campaign for Northeastern Illinois University.
About Transforming Lives
Northeastern has come a long way since 1867.
Every year since then, our Golden Eagle alumni have found success in virtually every discipline. They are business leaders, scientists, educators, physicians and political leaders, professional artists and musicians, scholars, community builders and innovators. We are very proud of who they are and honored to have shaped who they've become.
As we conclude our first-ever fundraising campaign, we reflect on how this significant milestone will impact our current and future students thanks to you, our alumni and friends. It has been a meaningful journey and we could not have done it alone. Now our students have a stronger foundation of scholarship opportunities and access to exceptional learning environments. We thank you.
Extraordinary Scholarship Support
Scholarships support for our deserving undergraduate and graduate students is vitally important to help them access an excellent education, regardless of need, and to keep debt low as they complete their degrees.
Exceptional Learning Environments
Thoughtfully developed Northeastern facilities foster achievement, enhance well being, aid growth, encourage community spirit and support transformation. Amenities and technology-rich improvements to our learning environments support research, scholarship and campus life for students, faculty and staff.
"Today we measure the success of this challenge in dollars and cents. In time, we will measure it in the number of lives transformed."
Daniel L. Goodwin, B.A. Elementary Education - Psychology
Thank You from Our Campaign Co-Chairs
We would like to thank the Golden Eagle family and friends that have come together to support Northeastern. Thank you for transforming the lives of our students.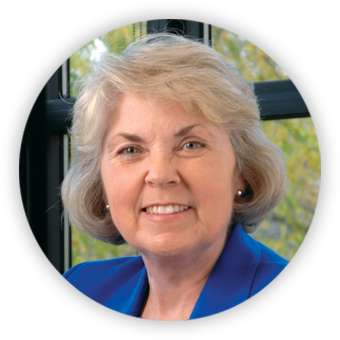 Sharon K. Hahs
President Emerita Sharon K. Hahs has always been deeply committed to ensuring that students are well-prepared for leadership and service in a global society. During her tenure, she bolstered the national profile of the University, earning distinctions like Newsweek's 6th best investment, U.S. News and World Report's Least Debt Upon Graduation, and top rankings for graduation of ethnically diverse students. She is also a member of the Northeastern Illinois University Foundation Board.
President
2007 – 2016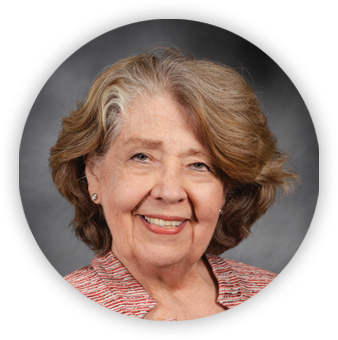 Salme Harju Steinberg
President Emerita Salme Harju Steinberg is known for her commitment to diversity in the recruitment and retention of faculty, staff and students, and integrating the fine arts and international education into the university experience. As President Emerita, she continues her work to support quality education opportunities for first-generation students. She serves on various non-profit boards that support the arts and education. She is also a member of the Northeastern Illinois University Foundation Board.
President
1995 – 2007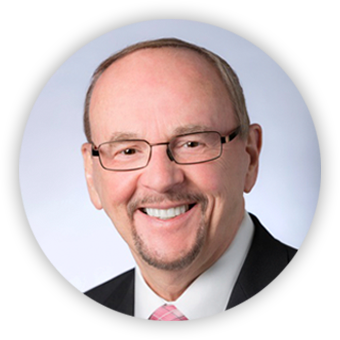 Daniel L. Goodwin
Board of Trustees Chairman Emeritus Daniel L. Goodwin is a graduate of Northeastern. He is also the first person to have a Northeastern college named in his honor, the Daniel L. Goodwin College of Education. Mr. Goodwin is Chairman and CEO of The Inland Real Estate Group of Companies, a national commercial real estate organization headquartered in Oak Brook, Illinois.
B.A. 1966, Psychology and Education
Chairman, NEIU Board of Trustees, 1996 - 2006